From the  SF Business TImes:
Downtown, Civic Center and the Tenderloin have the dubious distinction of being the areas of San Francisco that have the highest likelihood of car break-ins, according to an analysis from parking app company SpotAngels.
The company merged public safety data about the rate of criminal activity with their own proprietary information about the number of parking spaces available in specific neighborhoods to create a ratio of break-ins to number of parking spots for 2016.
Downtown, Civic Center and the Tenderloin came out ahead in this measure at a ratio of 0.35 break-ins per the number of parking spots. Not far behind are North Beach/Telegraph Hill and Golden Gate Park which had a ratio of 0.29 and 0.28 respectively. In the pure number of total break-ins, Soma/ South Beach/ Mission Bay are ahead with 5,261 break-ins, which make up 17 percent of total incidents in the city.
On the other end of spectrum are largely residential neighborhoods on the Western and Southern edge of the city, the Outer Sunset, Parkside and Crocker-Amazon, which had a break-in ratio of 0.02.
Even in neighborhoods known for high incomes and high housing prices, the rate of break-ins may be high. Seacliff, for example, which is known for large estates overlooking the Pacific Ocean has a break-in ratio of 0.22.
"The big take away here is that, even in a posh zip code, you shouldn't leave your valuables visible in your car," said SpotAngels co-founder Aboud Jardaneh.
According to the SpotAngels data, San Francisco had 27,104 total break-ins in 2016, 98 percent of which go unsolved. While the company is still tallying data for 2017, the report showed a 17 percent increase in break-ins from January to October from the year before. Jardaneh said one neighborhood that has seen a big increase in break-ins year-over-year has been the Mission.
In some of the neighborhoods, break-ins were concentrated in specific blocks. Leading the way there was the 500 block of John F. Kennedy Drive in Golden Gate Park, which had 285 break-ins, totaling nearly 33 percent of all break-ins within the park.
Coming in second was 1000 Point Lobos Ave. in Seacliff, which saw 267 break-ins making up a whopping 63.78 percent of the total incidents within the neighborhood. Visitors in SoMa/South Beach/Mission Bay may do well to avoid the 800 block of Mission St. which saw 205 total break-ins.
The cost of San Francisco gridlock to businesses? You'll be surprised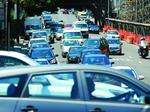 Supes want to split SFMTA into two agencies — here's why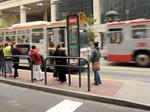 S.F. neighborhoods with the most parking tickets